Water Soluble Paper
You can write or type on our water soluble paper (water dissolving paper) but it will dissolve in just seconds when it makes contact with any liquid, resulting in useless mulch. You can quickly write or type a confidential note, give it to a source or agent and they can simply place it in a glass of water and the note is completely destroyed, leaving no traces behind.
Our water soluble paper is made of Sodium Carboxy Methyl Cellulose and wood pulp. It dissolves in cold water, hot water, steam and most aqueous solutions. The water soluble paper is non-toxic, environmentally friendly and 100% biodegradable. It can be written on, typed on, digitally printed on, thermal transferred and photocopied. The water soluble paper works impeccably with solvent-based ink mixtures. It can also be laminated and formed into heat sealable pouches for temporary storage, yet dissolve away when placed in water.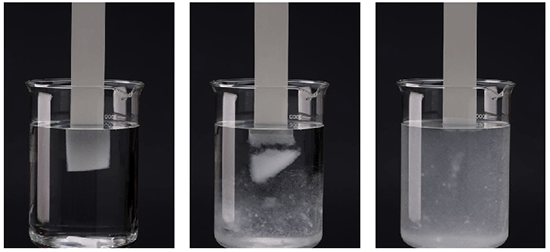 Our Water-Soluble Paper is available in standard sheet, roll and tape formats. Additionally, custom sizes can be modified for your specific application. Custom sizes up to 47″ (1250 mm) wide by 13,120 feet (4000 m) depending upon type and coating. It can also be formed into custom sized pouches of different shapes. Contact us with your specifications.
---
Our water soluble paper is available in a variety of thicknesses and can be made with or without coatings. The standard coatings applied include, but are not limited to, EVA (Ethylene Vinyl Acetate), PVOH (Poly Vinyl Alcohol) or spray dispersed. Finishes include smooth or texturized. Selection will depend upon machine application. Other characteristics include tensile strength, elongation, opacity, whiteness, flatness, tear strength and solubility time. Inquire with us about your specific application and we will customize a solution just for you.
---
Our water soluble paper is EPA approved, CE approved, 100% biodegradable, compostable, environmentally friendly, recyclable, safe, non-toxic, and non-flammable.
Sheets (Letter/US Letter Paper Size):
8.5" x 11" water-soluble paper (10 sheets) – model AA90123-17
8.5" x 11" water-soluble paper (20 sheets) – model AA90123-32
8.5" x 11" water-soluble paper (30 sheets) – model AA90123-33
8.5" x 11" water-soluble paper (40 sheets) – model AA90123-36
8.5" x 11" water-soluble paper (50 sheets) – model AA90123-16
8.5" x 11" water-soluble paper (100 sheets) – model AA90123-4
8.5" x 11" water-soluble paper (200 sheets) – model AA90123-5
8.5" x 11" water-soluble paper (300 sheets) – model AA90123-6
8.5" x 11" water-soluble paper (400 sheets) – model AA90123-7
8.5" x 11" water-soluble paper (500 sheets) – model AA90123-8
8.5" x 11" water-soluble paper (600 sheets) – model AA90123-18
8.5" x 11" water-soluble paper (700 sheets) – model AA90123-20
8.5" x 11" water-soluble paper (800 sheets) – model AA90123-21
8.5" x 11" water-soluble paper (900 sheets) – model AA90123-22
8.5" x 11" water-soluble paper (1000 sheets) – model AA90123-23
8.5" x 11" water-soluble paper (1500 sheets) – model AA90123-24
8.5" x 11" water-soluble paper (2000 sheets) – model AA90123-25
8.5" x 11" water-soluble paper (2200 sheets) – model AA90123-34
8.5" x 11" water-soluble paper (2500 sheets) – model AA90123-26
8.5" x 11" water-soluble paper (3000 sheets) – model AA90123-27
8.5" x 11" water-soluble paper (3500 sheets) – model AA90123-28
8.5" x 11" water-soluble paper (4000 sheets) – model AA90123-29
8.5" x 11" water-soluble paper (4500 sheets) – model AA90123-30
8.5" x 11" water-soluble paper (5000 sheets) – model AA90123-31
Sheets (Other Paper Size):
8.5" x 14" water-soluble paper (500 sheets) – model AA90123-1
15.5" x 22" water-soluble paper (250 sheets) – model AA90123-2
17" x 22" water-soluble paper (500 sheets) – model AA90123-3
Water Soluble Adhesive Tape:
1" x 300′ water-soluble tape – model AA90123-10
2" x 300′ water-soluble tape – model AA90123-11
Water Soluble Non-Adhesive Tape:
2" x 300′ water-soluble non-adhesive tape – model AA90123-35
Rolls:
15.5" x 165' water-soluble paper roll (3.5 mil) – model AA90123-12
15.5" x 165' water-soluble paper roll (8.0 mil) – model AA90123-13
20.5" x 165' water-soluble paper roll (5.0 mil) – model AA90123-14
31" x 165' water-soluble paper roll (8.0 mil) – model AA90123-15
Specifications:
Paper Thickness: 3.5 mil (all letter size models)
Density: 0.55 g/cub.cm (all letter size models)
Material: Sodium Carboxy Methyl Cellulose and wood pulp
Non-toxic
Environmentally friendly
100% biodegradable